In 1940, the first series of Streamliners were replaced by a second set. The revamped streamliners had such modern amenities as power steering, articulated dual front wheels, Dual-Range Hydra-Matic, automatic headlights dimmers, bubble cockpit, and much more. The second set consisted of 12 units instead of the previous eight.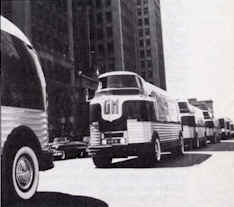 Second series was dusted off in 1953 to become third parade of Progress; it drives away from the GM Building for its final tour. The Parade ran until mid-1956.

Futurliners opened up to form stage and exhibits. Young college grades became show lecturers but also performed menial chores such as driving trucks, picking up rubbish, and setting up tents. Jack Jerpe, Parade's leader, stands in center of the front row in lighter suit.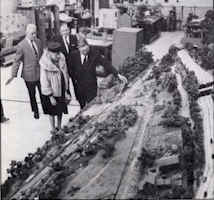 One of the Parade's dioramas showed 50 years of change in 10 minutes of movable, automatic scenery. This $1 million exhibit used to be at Chicago's Museum of Science and Industry. GM has since reclaimed it and we believe it to be in storage.