HOME

'33 World's Fair

1936 Parade

1938 Previews
1941 Parade

1953 Parade

1954 Parade
Aero-O-Dome
Exhibits

Demonstrations

Appreciation Letters

Futurliner

In-Line Six

Other Futurliners
Paraders
Burke
Faraone
Hardenbrook
Morris
Concept Cars
The Show
Noakes
Pres. & Displays
Futurliner Pics
Tent Pics
VanVoorhis
Advance Man
Concept Car
The Show
ID Cards
Johns ( uniform)
Garske
Oral Roberts Cathedral Cruiser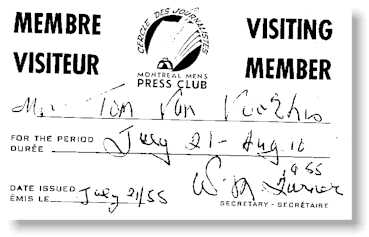 This ID card was issued to Tom from the Montreal, Canada press club.
This ID card announced him as an honored guest of the City of Galveston, Texas. He writes:

"While in Galveston, Texas I got a parking ticket. The police gave me this Courtesy Card to use at no charge."
This clipping reads:
TRIBUTE PAID
TO GALVESTON
Galveston was classed as one of the friendliest and most cooperative cities of any visited by the General Motors parade of Progress by Tom Van Voorhees, field representative of the scientific exhibition, in a statement to the board of school trustees.
Voorhees contacted school officials to see if any damage was done to the Alamo school grounds, with the idea of paying for such damage. The exhibition was stage on the Alamo grounds.
School officials advised him the grounds were left in even better shape than they were before the Parade of Progress used them.
Voorhees also paid tribute to the conduct of Galveston children. He said "their conduct was superior here any any city in which the exhibit was shown."
Copyright 1999-2018. All rights reserved.