TOM VAN VOORHIS
2/29/2000
Dear Mr. Don Mayton, Director GM Futurliner Restoration
I was an advance representative for the GM Parade of Progress, 1954-1955. It was one of my BEST GM assessments in 29-1/2 years!
Enclosed are some GM Parade photos for your collection.
I believe the POP special section in the Akron Beacon Journal, Sept. 26, 1954, is the only bona fide special section of the Parade received anyplace on tour. Other Advance Men may not agree!
Thank you for your good news reports. It sounds like you are making excellent progress on your Futurliner restoration. Vic Garske and I want to come and see it when restoration is further along.
With best regards, Tom Van Voorhis.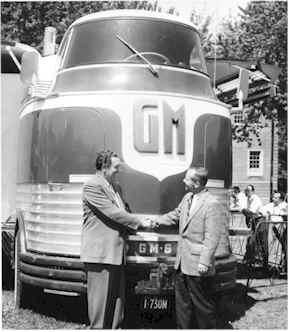 Bruce Overbey (left) Operations Manager and Tom Van Voorhis, Advance Representative pose for a handshake in front of a Futurliner.