Out of the Muddle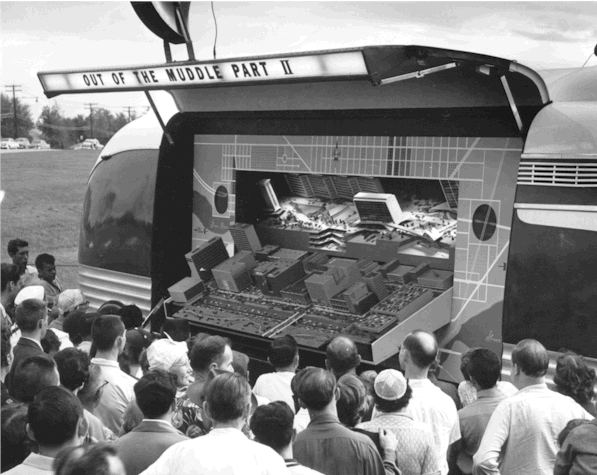 1953 Shreveport -- One of the main attractions at the spectacular GM Parade of Progress is an animated "Out of the Muddle" display designed to focus public attention on city and suburban traffic needs by dramatically demonstrating possible solutions to common traffic problems.
New highways, parking areas and other improvements appear as if by magic in model communities in the exhibit, housed in one of the big Parade of Progress "Futurliners."
"This exhibit is General Motors' latest contribution toward keeping the public informed and interested in our nation's very serious highway problems," said Harlow H. Curtice, president of General Motors.

The exhibit is the result of 18 months of painstaking work by a GM staff of engineers. The staff was advised by nationally known highway engineers and traffic experts.
The exhibit consists of two displays on 16-foot-wide side panels, one on each side of Futurliner where they can be viewed by crowds outside the vehicle. The displays operate simultaneously.
Model communities in the exhibit contain more than 1,000 "buildings," an estimated 1,500 plastic cars and trucks from one to two inches long, scores of trees and other fixtures.
A complicated electrical system with 25 electric motors -- powered by a unit in the Futurliner itself when no outside power source is available -- operates the displays, automatically causing the cars and trucks to move, buildings to appear and disappear and traffic lights to flash.
Recorded commentaries synchronized with the action explain what is happening.
The display on one side of the Futurliner is called "Out of the Muddle -- Part I," and portrays the traffic congestion in a suburban community, its causes and suggested remedies. Part of this community is turned "upside down" by panels that revolve to show how express by-pass highways, planned community developments and other improvements can solve traffic problems.
On the other side of the Futurliner, "Out of the Muddle -- Part II," offers a similar portrayal of traffic problems and solutions in a modern city, plus a cross-section of a "dream" city of the future in which underground thoroughfares and other improvements have all but eliminated most serious traffic problems.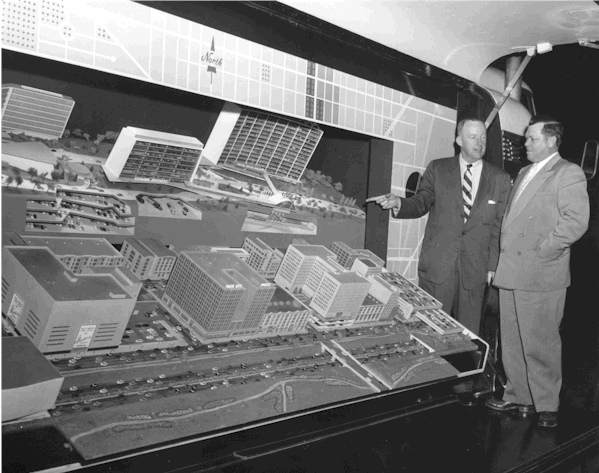 Parade Director, John E. Ryan, points out various features of the display.