1954 BONNEVILLE SPECIAL
"We always had a one or more concept cars on display, starting with the first Corvette. Other dream cars included the Buick Wildcat, Cadillac LaEspada, Pontiac Firebird. I'm not sure which one this was."

The following was contributed by Old Cars Editor, Chad Elmore:
"The car in the photo is one of two 1954 Bonneville Specials that were built as Pontiac's 1954 Motorama cars. One Bonneville was painted a reddish bronze color, the other green. It had a fiberglass body and a straight-eight engine. Pontiac and Oldsmobile (the F-88) had Corvette-inspired show cars that year. Both Specials survive; I believe the bronze one is restored, the green one is now white and fairly rough."
1954 BUICK WILDCAT II
"I took this photo in London, Ontario."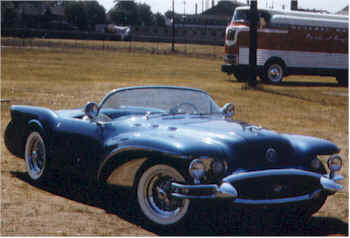 Following is the January 17, 1954 Buick Motor Division News release:
"This rakish sports convertible is Buick's new Wildcat "dream" car, described by its designers as the only sports car with truly American styling. Built of fiberglass and mounted on a 100-inch wheelbase, the new Wildcat features radical new front fender styling that exposes the under side of the fender and the front end suspension. Headlamps are mounted on the cowl with parking and directional signal lights on the front end, underneath the fender shroud. Painted a bright blue with white leather trim, the Wildcat is powered by a standard Buick V-8 engine equipped with four carburetors that boost its horsepower output to 220. The Wildcat will make its public debut at the General Motors Motorama in New York City."
The Wildcat II now resides at the Sloan Museum in Flint, Michigan. It sported plenty of the 1950s most popular design features. The body was made of fiberglass and was the inspiration for the Chevrolet Corvette.